Taym Saleh holt Pole-Position beim Auftakt zur FIA Kart-EM
29. März 2023, 19:23
Autor: Timo Deck | Bilderquelle: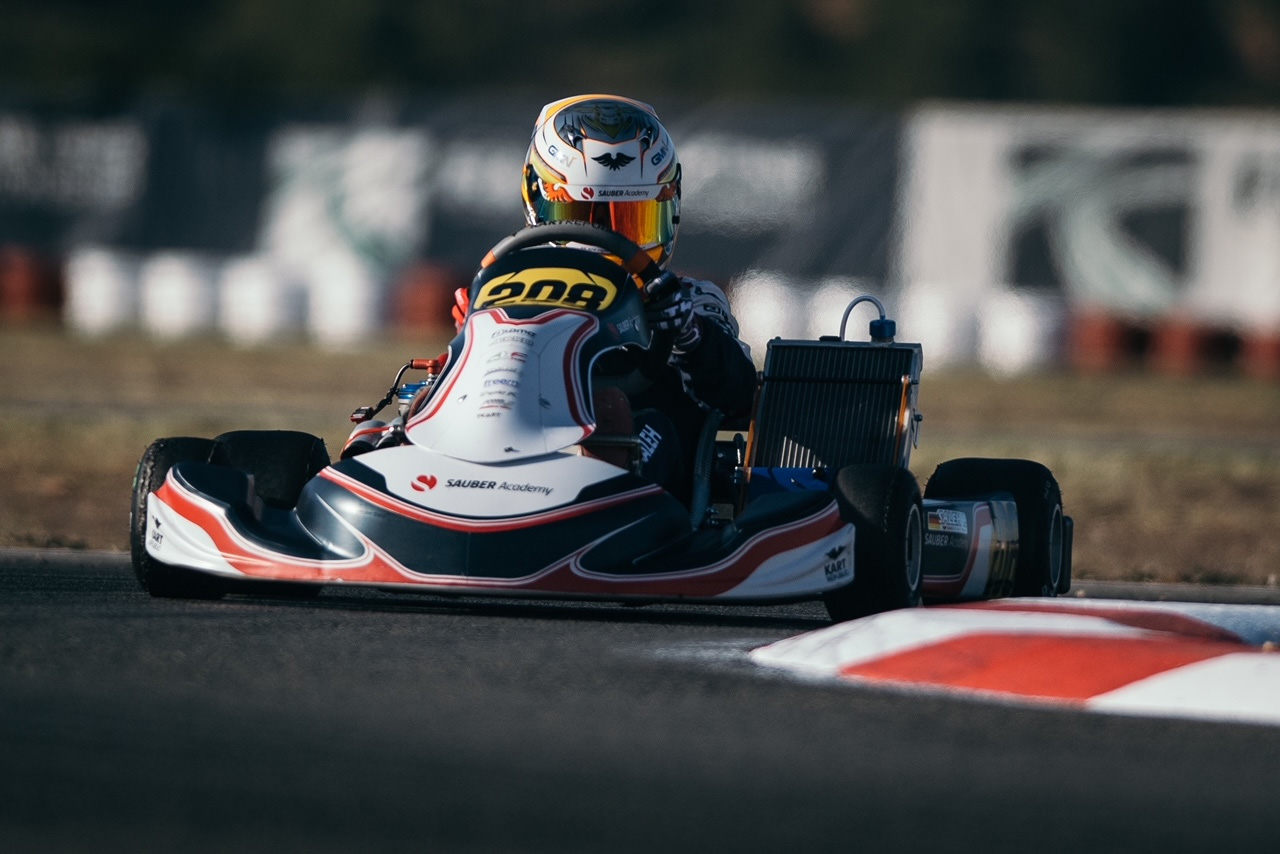 Für Taym Saleh stand am vergangenen Wochenende (24.-26. März 2023) der Saisonstart der FIA Kart-Europameisterschaft auf dem Plan. Dafür zog es den 13-Jährigen ins spanische Valencia, wo er sich gegen über 80 weitere Junioren-Fahrer behaupten musste. Am Ende lieferte der Deutsche eine sensationelle Leistung ab.
Bereits in den Freien Trainings zeigte sich Saleh auf der 1.428 Meter langen Strecke des Kartodromo Internacional Lucas Guerrero in bestechender Form und etablierte sich auf Anhieb im Spitzenfeld der europäischen Elite. Als es dann ins entscheidende Qualifying ging, untermauerte der Schützling der Sauber Academy sein Können und markierte sensationell die Bestzeit, womit er die Pole-Position für die anstehenden fünf Vorläufe erobern konnte.
Und auch diese meisterte der Youngster mit Bravour und taktischem Geschick. Mit drei Siegen, einem zweiten und einem dritten Rang sicherte er sich Rang zwei im Zwischenklassement. Im sogenannten Superheat, der letzten Station vor dem großen Finale, brachte der KR-Pilot einen sicheren fünften Platz ins Ziel, was den aussichtsreichen vierten Startplatz für das Hauptrennen bedeutete.
Unglücklicherweise verlief der Start ins Finale nicht nach Plan für Saleh. Der Viernheimer rutschte in den ersten Runden bis auf Position sieben zurück, bevor er sich fangen konnte und zur Aufholjagd blies. Diese brachte ihn nach 18 Runden noch bis auf Position vier nach vorne.
"Ich bin sehr happy mit dem Ergebnis. Natürlich hätte ich gern auf dem Podium gestanden, aber die Pole-Position geholt zu haben und zu wissen, dass unser Paket siegfähig ist, freut mich sehr. In der Meisterschaft liege ich jetzt auf Rang drei und ich werde mein Bestes geben, dass ich auch in den nächsten drei EM-Rennen auf Podest-Kurs bin", zeigt sich Saleh kämpferisch.
Bevor es allerdings für Saleh mit dem nächsten EM-Lauf weitergeht, steht zunächst die WSK Super Master Series in Cremona (IT) vom 31. März bis 1. April sowie die Euro Series der Champions of the Future in Trinec (CZ) vom 3. bis 6. Mai auf dem Plan.