De Conto gewinnt aufregendes Race of Stars
16. Oktober 2016, 21:31 | Autor: Fast-Media - Björn Niemann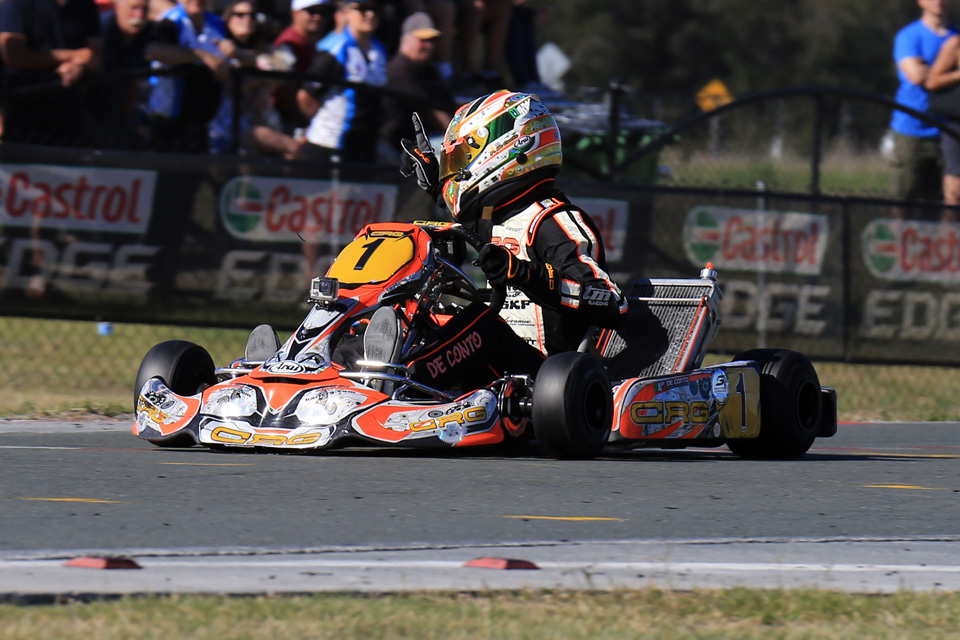 Schaltkart-Weltmeister Paolo De Conto ist in diesem Jahr nicht zu bremsen. Der Italiener setzte sich an diesem Wochenende beim Race of Stars in Australien durch und verbuchte einen weiteren hochkarätigen Sieg auf seinem Konto. Marijn Kremser und Davide Fore komplettierten das Podium.
Die Goldküste in Australien ist bekannt für seine tollen Strände und perfekte Wellen. Doch an diesem Wochenende stand der Motorsport im Mittelpunkt. Beim Race of Stars in Gold Coast begrüßten die Organisatoren zahlreiche Piloten aus aller Welt – darunter auch einige Top-Fahrer aus Europa.
Bei den Schaltkarts feierte der amtierende Weltmeister Paolo De Conto seine Premiere auf dem fünften Kontinent. Neben ihm war auch der fünffache Weltmeister Davide Foré und Marijn Kremers aus den Niederlanden vertreten. Die drei Top-Fahrer sorgten im Finale für eine Mega-Show und wechselten sich mehrmals an der Spitze ab. Zum Ende schloss dadurch noch der australische Youngster Tomas Gasperak zu dem Trio auf. Am Ende griff der 14-jährige Nachwuchspilot aber nicht mehr in den Kampf um das Siegerpodium ein. An der Spitze behielt letztlich De Conto die Oberhand und siegte vor Kremers und Foré.
Sieger De Conto war am Ende glücklich über seinen Erfolg: "Das war das erste Rennen nach dem Weltmeistertitel, umso schöner ist es direkt zu siegen. Die Strecke war sehr schnell, deutlich schneller als in Europa, dass sorgte für tolle Rennen. Die Zeit hier an der Gold Coast war unglaublich und ich möchte auf jeden Fall wieder kommen."